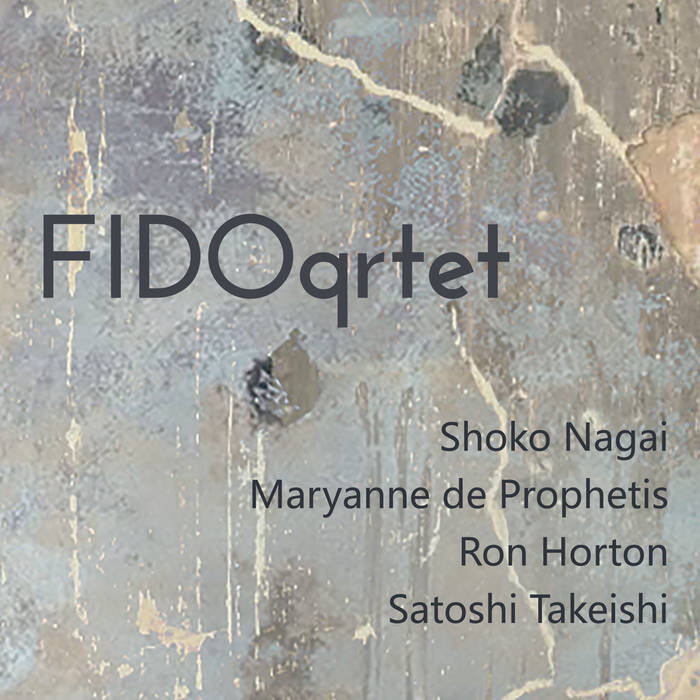 "FIDOqrtet" was recorded by ensemble "FIDOqrtet" which members are Maryanne de Prophetis (voice), Shoko Nagai (piano/processor), Ron Horton (trumpet/flugelhorn) and
Dean Johnson (bass). An ensemble creates the music on the strong basics of avant-garde jazz and its main compounds. Free improvisation, sonoristic experiments, investigations, research to new or strange timbres, dynamic turns, contrasts and the links to bebop, hard bop, other modern jazz styles and etc. From the fundaments of American avant-garde jazz and Western Europe contemporary academical music, the musicians find the link to Asia, its culture and the main elements of Japanese ethnic music. By using their knownledge, creativity and fantasy, the musicians create an album which also is a bridge between European and Asian cultures.
The newest album of "FIDOqrtet" is filled with extravagant decisions, modern ideas and dynamic turns. The music is based on free improvisation and experimental jazz. A wide stylistic range is created – the improvisers combine together Western Europe academical music, American avant-garde jazz and Japanese ethnic music. This interesting fusion is filled with exotic tunes, specific intonations, gorgeous ornaments typical to Asian music, Japanese improvisational and ethnic music. There's no line between these two cultures – the musicians passe from one style to another without any force. After diving in subtle, relaxing or meditative pieces, abstract free improvisations, roots of 1960's avant-garde jazz, the musicians get on exotic, bright and interesting melodies filled with flowing passages, specific intonations, original chords and other elements which contain the base of Asian music. The music is bright and luminous – sometimes it's sparkling and thrilling, furious and aggressive, exclaiming or simply gentle, tight, childish and playful. Different kinds of moods, expressions and instruments are brought together to make an universal, multi-layed and colorful musical pattern. Bright eclectic trumpet and enchanting flugelhorn bring vital, luminous and dynamic sound. Growls, urglings, wainings,  expressive melodies with rapid solos and flowing passages are the main basics of trumpet's improvisations. From silent pauses, lyrical contemplations, meditative minimalistic samples the music jumps on thrilling solos, full blasts, roaring perturbations or sparkling riffs. Emotional and driving trumpet is contrasting to more lyrical and gentle flugelhorn – here remarkable melodies and free improvisations are accompagnied all the time by strange timbres, special effects, gentle passages, colorful fragile ornaments and other similar elements. A vocalisation is another very important aspect which makes an effort to whole sound. Free improvisation is brought together with expermental music, the main elements of traditional Japanese music and Asian culture. Interesting investigations, calm relaxing solos passing to striking culminations, vibrant thrills, emotional trills illustrated by whispers, shouts, wains and other spoken elements. Vocalisation is made with invention and fantasy – huge range of colors and expressions of all kinds is created. Voice really is the main accent and the soul of the melody line – it's like a bridge which joins together exotic, eclectic and original Asian music, impressive free improvisation and the basics of avant-garde jazz and experimental music. Piano melodies illustrated by processor's tunes are bright and dynamic – driving riffs, breaking perturbations, lyrical meditations and relaxing pieces played in especially expressive and emotional playing manner make an effective and variable sound. Special effects, strange timbres, computer sounds, synth tunes and other elements produced by processor, gently fit together with driving, passionate and dynamic piano. Deep, tight and stable bass line vs. radiant riffs, vibrant perturbations, impressive solos and enchanting melodies – that's the base of bass improvisations. The music of this album is based on huge diversity of musical language's elements and large knownledge – the musicians together create an innovative and inspiring sound.