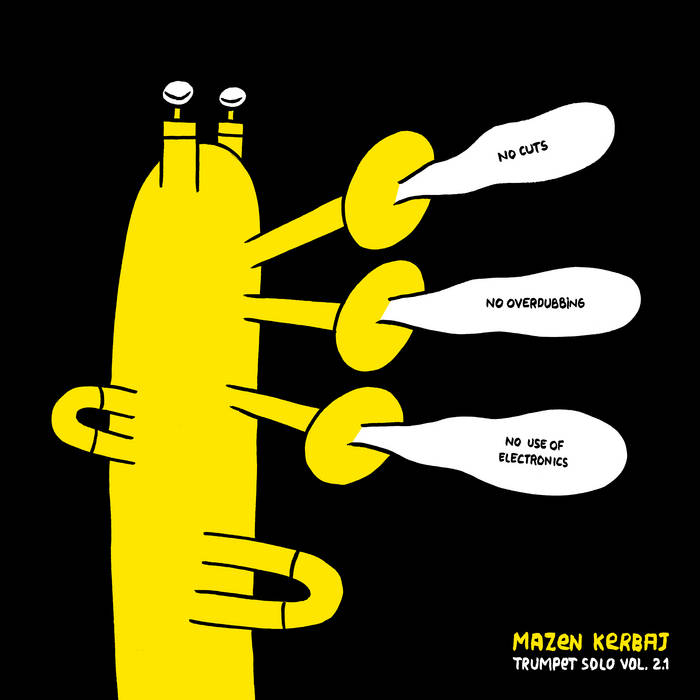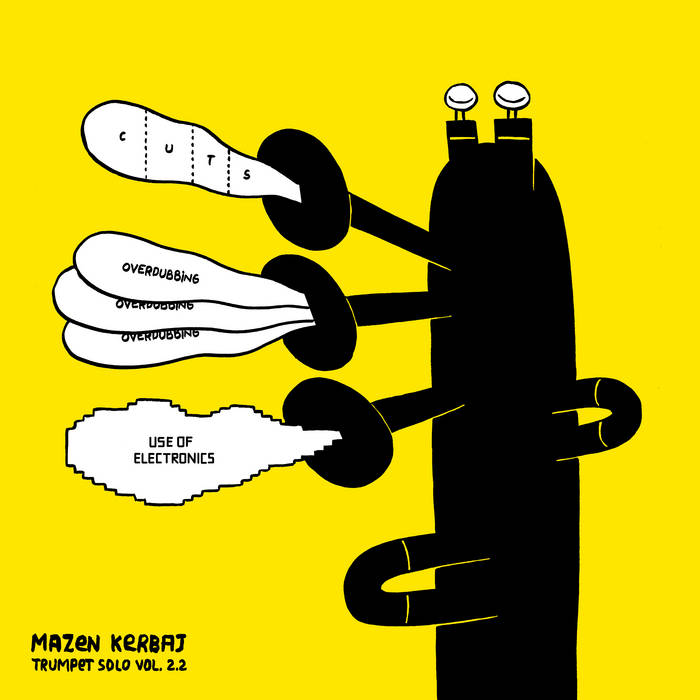 Two exclusive albums were recently recorded by great talented improviser, trumpet player and composer Mazen Kerbaj – it's "Trumpet Solo, Vol 2.1 No Cuts, No Overdubs, No Use Of Electronics" and "Trumpet Solos, Vol 2.2 Cuts, Overdubs, Use Of Electronics". Trumpeter Mazen Kerbaj has many talents – he's also known as comic book artist and graphic designer. His free improvisations are based on the newest tendencies of experimental jazz, evocative and astonishing experiments, evocative decisions and main elements of contemporary academical music. An improviser is active figure of international avant-garde jazz scene – he had been collaborating and playing together with various famous jazz masters such as "Ariha Brass Quartet" or "Johnny Kafta Anti-Vegetarian Orchestra". This is the first time when Mazen Kerbaj debuts as a solo trumpet player – these two albums are great examples of it.
An improviser explores his wide technical abilities, inspiring and original playing techniques and innovative playing manner to create an unique sound. These two albums are completely different from each other. "Trumpet Solo, Vol 2.1 No Cuts, No Overdubs, No Use Of Electronics" has expressive, dynamic and original sound. The compositions for prepared trumpet are filled with modern expressions, experimental ways of playing, extended, radical or specific playing techniques and wide range of motions. Difficult polyphonic structure makes a multi-layed musical pattern with bright exciting melody line, sudden changes, strong contrasts, illustrative background filled with all kinds of textures, sounds and timbres. An exclusive instrumental section is created – improviser is trying all kinds of playing techniques and expressions. Experimental, unusual, weird, specific, home-made and extended ways of playing contain the main base of these compositions. Remarkable and independent melodies are always accompagnied by colorful pattern and rich background. Roaring riffs, wild terrific culminations, cracking impressive blow outs, squawks, cackles, howls and squeals, hot thrills, perturbating bursts of energy and dizzy passages are the main elements of it. These moving and touching episodes are getting calm, deep, solemn, cold, heavy or silent – abstract free improvisations are like a lyrical contemplations which are played in soft, gentle, sophisticated or peaceful mood. Improviser shows a huge kit of his own, original and effective playing abilities and techniques. This album has emotional, bright, passionate and driving sound played with love, passion and expression. All the music is totally based on contemporary academical music, free improvisation and experimental jazz.
"Trumpet Solos, Vol 2.2 Cuts, Overdubs, Use Of Electronics" is completely different from the the first album. The album is based on free improvisation and all kinds of electronics highly used here together with prepared trumpet. An improviser succesfully manages to combine together absolutely different styles and genres – modified timbres, strange tunes, overdubs, cuts, glitch, drone, ambient, dubs, sound machine's experiments, field recordings, computer and electronics devices sounds, and all kinds of other electronics are connected to organic, bright and original trumpet's tunes. The music has an unusual and effective sound. Abstract free improvisation is fullfilled with electronics, rhythms, repetitive series and minimalistic samples. From soft, gentle and light sound the music gets cold, depressive, dark and abandonned, but it's never boring or too static. Mazen Kerbaj demonstrates the other side of his music and improvising – it's modern, effective, sometimes it's the most dark and heavy, sometimes it's sophisticated, lyrical, soft or vivid. The newest innovations of experimental and contemporary academical music, as well as concrete, spectral or sonoristic music are used here. Free improvisation and open form certainly is the main element of all compositions. Improviser finds the best way how to combine the playing techniques and electronics of all ranges to one place. That finally makes an effort to astonishing, bright and modern sound.
Both albums are just impressive – impression, passion, emotions, vividness and drive of the first album is highly contrasting to deep, heavy, abandonned, synthesized, meditative and suggestive second volume. The music has a modern, exciting and innovative sound.