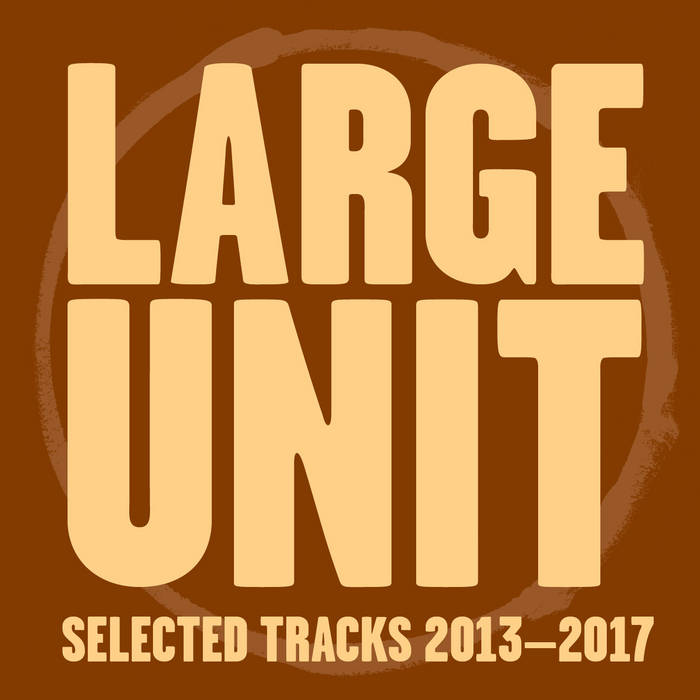 "Selected Tracks 2013-2017" – it's a new album [layed by one of the best avant-garde jazz ensembles "Large Unit". Compositions from various albums and performances are improvised and played different than in earlier collective albums. "Large Unit" ensemble consists of talented and experienced jazz masters – Thomas Johansson (trumpet), Mats Äleklint (trombone), Per Åke Holmlander (tuba), Børre Mølstad (tuba),
Julie Kjær (alto saxophone, flute), Kasper Værnes (alto saxophone), Klaus Ellerhusen Holm (Bb clarinet, alto and baritone saxophone), Kristoffer Berre Alberts (tenor and alto saxophone), Ketil Gutvik (guitar), Tommi Keränen (electronics), Lasse Marhaug (electronics and turntable), Jon Rune Strøm (electric and double bass), Christian Meaas Svendsen (electric and souble bass), Andreas Wildhagen (drums and percussion), Paal Nilssen-Love (drums and percussion), Paulinho Bicolor (cuica), Célio De Carvalho (pandeiro) and Christian Obermayer (live sound). Compositions played by this ensemble have a remarkable, expressive and effective sound. Masterfully combined acustic instruments and electronics, strange noises and timbres, creative and emotional solos and rigorous, energetic collective improvisations. Musicians try out many different music styles and playing techniques. Their talent, original improvising and novatoric playing creates modern and different sound.
Album "Selected Tracks 2013 – 2017" consists of 6 compositions. All of these compositions were played and recorded in other recently released albums of ensemble. So this album is a retrospective of ensemble work these past 4 years. All compositions have many different styles, contrasts and are full of musical experiments. Different and contrasting music styles combination, virtuosic and rigorous solos by musicians of ensemble, subtle used electronics, very dynamic rhytmic and high variety of percussion – these elements are the basics of compositions. Each musician is improvising individually and different from each other, but all melodies, timbres, rhytms and other music elements organically and gently combines into one composition. Musicians also pay high attention for musical experiments – each of ensemble members try out different, novatoric and extended playing techniques. All compositions in this album have remarkable, effective and original sound like all others compositions played by "Large Unit".